SureCritic Reviews of Greenville Hyundai in Texas
Read Our Reviews in Greenville, TX
At Greenville Hyundai, customer satisfaction is our top priority. We take pride in our continuously great service and encourage you to read reviews and testimonials from our valued customers.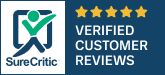 Why You Should Buy from Greenville Hyundai
Greenville Hyundai is a dealership dedicated to having the best vehicles and services around. However, at Greenville Hyundai, we believe our business is about more than just selling cars, it's about creating lasting relationships with our customers. To start, we want to help you make an informed purchase of a quality vehicle that will leave you not only satisfied but looking for a reason to come back. We will then build on that initial relationship by continuing to provide excellent service for your vehicle until it is time for your next. Whether you need parts or repairs, or even automotive advice, Greenville Hyundai will always be here to lend a helping hand. We've been in the Greenville community for over a decade and have a low staff turnover rate, so we hope to provide all our customers with excellent service time and time again. Read some of our more than 40 SureCritic verified customer reviews, and you'll soon see that Greenville Hyundai is the real deal.
Leave Us a Review
Leave us a review online. We would love to read about your experience and learn new ways to improve the Greenville Hyundai experience for our customers.
Shop New & Used Vehicles in Greenville, TX
Shop through all of the latest Hyundai models at Greenville Hyundai. Whether you're looking for a versatile SUV like the 2021 Palisade or a compact vehicle like the Hyundai Sonata, Greenville Hyundai is sure to have the perfect new vehicle for you. Greenville Hyundai has an excellent selection of used vehicles from automakers like Jeep, RAM, Hyundai, Ford, and Chevy. Shop through our entire inventory online or stop by the dealership to view our lot in person.

Take Advantage of Our Financial Tools
Greenville Hyundai can help! We have an easy-to-use online appraisal app that will compare your car to thousands like it within seconds. By using this data, our algorithm will then compute your vehicle's worth, giving you a number to use when planning out your trade-in.No matter your credit history, our dealership finance department would love to take the stress off of your hands. Head over to our online credit application to get started, or speak with a finance specialist in person.

Contact Greenville Hyundai in Greenville, TX
Would you like to learn more about Greenville Hyundai? For assistance with all of your automotive needs, contact Greenville Hyundai today.